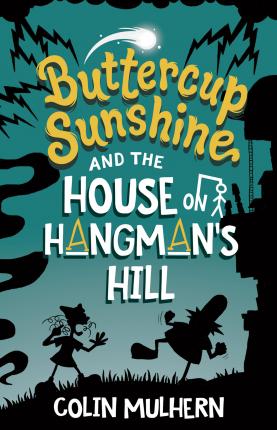 posted on 30 Aug 2019
Buttercup Sunshine and the House on Hangman's Hill by Colin Mulhern
Back in June 2018, I reviewed the first instalment of the Buttercup Sunshine series, Buttercup Sunshine and the Zombies of Dooooom, which was great fun and promised a sequel for the Spring of 2019. Well, here it is – Buttercup Sunshine and the House on Hangman's Hill.
If you read the first book, you'll be delighted to know that author, Colin Mulhern has cooked up this one using pretty much the same recipe. In fact, he uses the cunning device of continuing on from the original (and leaving this one with an open-ended thread to be picked up in the next) and spinning a new adventure that references the previous one. But don't be concerned if you're coming to this one first because there's a very handy catch-up at the beginning and I can't imagine it will tax anyone in terms of getting to grips with the story.
So we pick Buttercup trying to get to town to warn the inhabitants of the forthcoming zombie apocalypse that has been triggered by the landing of the mysterious meteorite in the local graveyard. Although Buttercup has escaped it's at a cost because her darling grandma has become a zombie too and she knows that anything done to destroy the zombie crew will also mean the end for grandma. As she heads for town she meets the postman and tries to tell him of the doom awaiting the town but he's got other things on his mind – specifically a mystery parcel that needs to be delivered to a house that has mysteriously appeared on Hangman's Hill after the very same meteorite that created the zombies passed over the spot on which it now stands.
Pretty spooky, eh?
Well, not spooky enough, can you believe, to prevent Buttercup from trying to help the postman by agreeing to take his delivery there. And things get even more outrageous when we discover that the house on the hill is owned by none other than Dr Frankenstein who is busy with plenty more experiments with bodies and brains!
Can Buttercup persuade Dr Frankenstein to use his 'monster' to help with the battle against the zombies? Well, that turns out to be a complicated question and just maybe the Doctor's motives aren't quite what they seems to be at first and how do rabbits get tangled up in this creepy tale?
But, as always, I'm not telling you how this one works out because you'll want to read it for yourself.
This rollicking story, complete with entirely appropriate goofy illustrations comes from Maverick Arts Publishing and will be a suitable distraction from the new school year for younger readers who don't mind a bit some scares mixed in with their comedy.
Terry Potter
August 2019