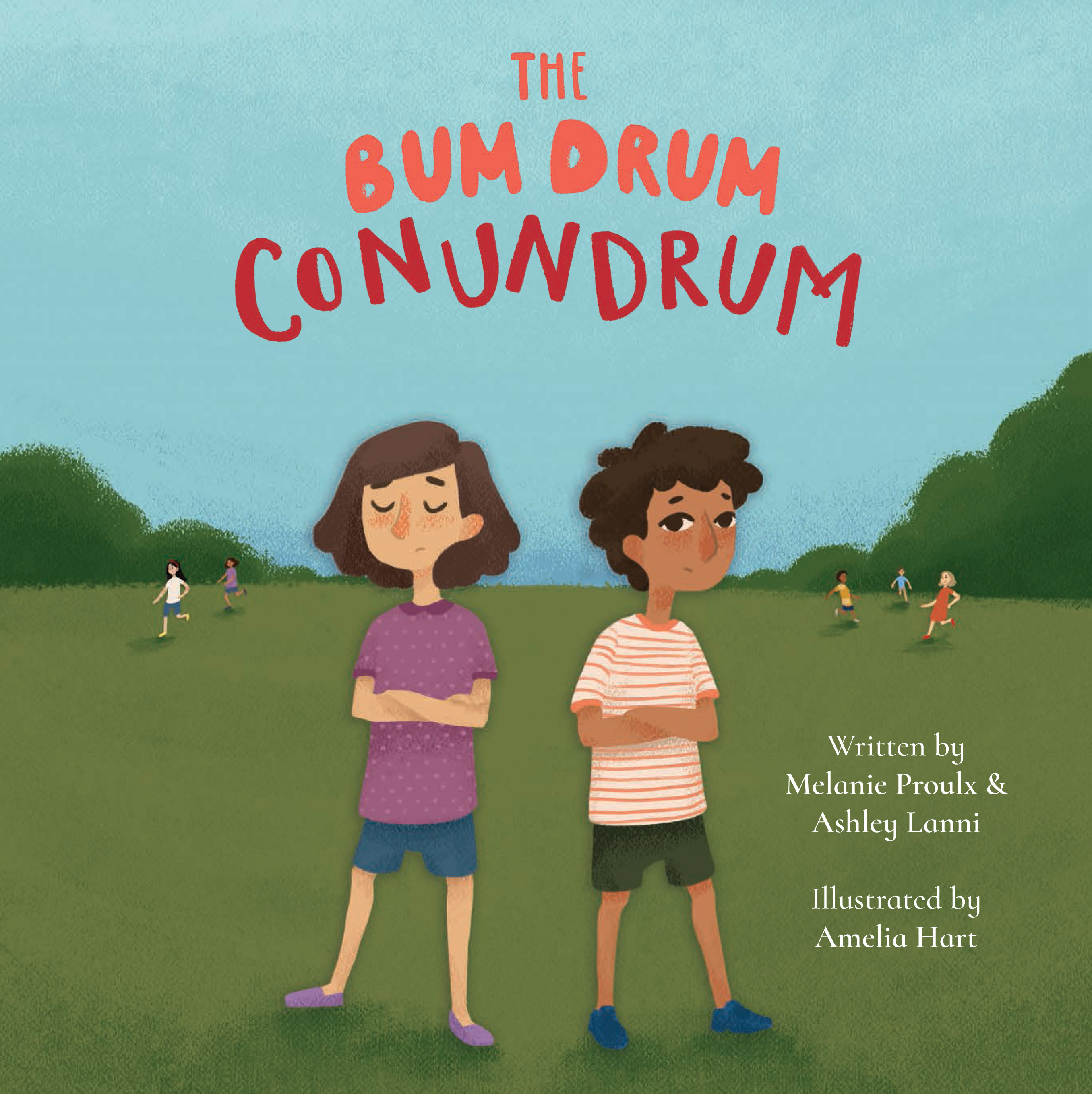 posted on 17 Aug 2019
The Bum Drum Conundrum by Melanie Proulx and Ashley Lanni, illustrated by Amelia Hart
This new picture book published by Tiny Tree certainly deserves a prize for an intriguing, catchy title! The front cover, which shows a boy and girl facing away from each other looking cross, doesn't give any clues. Before reading the blurb, I genuinely thought that it might be about a broken drum and how it could be repaired. My three year old grandson knew better and correctly suggested that it might be about bottoms, which is a subject that is guaranteed to endlessly fascinate young children.
The richly illustrated story introduces us to Malina, an active and happy looking girl who is shown having a great time at the playground in the park. One day she notices that her friends are all playing a game together that she has never seen before:
'It's sort of like tag, but you have to tap the person's bum like a drum and shout' BUM DRUM' ! - like this! '
Although everyone else seems to be really enjoying the game - Malina is not keen at all and because of this she decides against going to play in the park. As she languishes at home, her mum is concerned and she eventually explains about the new game and why it makes her feel uncomfortable. As all good parents would ( hopefully) do, she listens carefully to her daughter and explains that:
' People should never make you do something that you don't want to do. You should never be afraid to say no'.
All is happily resolved when Malina goes to the park and tells her friends that she doesn't want to play the game. I liked the way in which she is shown as a confident and independent young girl who can solve tricky problems with advice from supportive adults. A double page spread towards the end of the book shows one of her friends walking home from the park with his dad as he explains her reluctance to join in with the game. He takes the opportunity to sit down on a bench with his son and gives him a talk about the importance of asking permission:
' Remember that people like different things and that you have to listen when people say no'.
As a child who never enjoyed physical games like this one, I perfectly understand why she might not be keen. I know plenty of children who are wary of playing tag, mostly because it can get a bit rough. On the other hand, my young grandson loves chasing people and he also quite likes shouting 'Bum' so wasn't that convinced about Malina's reluctance to join in. He is usually empathetic but argued that her friends were 'just playing' and so he couldn't see the problem. This makes me think that the story might inspire some interesting discussion about being considerate about people's feelings, as well as giving consent for being touched. As such, it would be a useful resource about this sensitive subject to use with older children in schools.
Karen Argent
August 2019