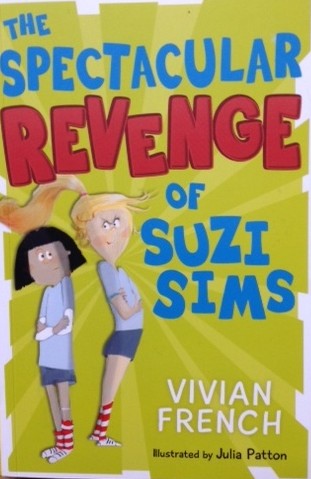 posted on 08 Jul 2019
The Spectacular Revenge of Suzi Sims by Vivian French
Suzi Sims loves running – and she's pretty good at it too. School sports day isn't far away and she's looking forward to trying to win the Harrison Primary Sports Medal. In fact she's so wrapped up in her running that she even runs to school – which is all well and good until one day she accidentally runs into an older woman who is really rather grumpy about it all.
What Suzi doesn't know at this point is that this little accident is going to have all sorts of big repercussions because it turns out that the woman she crashed into on the street is in fact her new supply teacher at school – Miss Grit. And she's clearly in no mood to forgive and forget.
 If that's not bad enough, it seems that Miss Grit is in close cahoots with Suzi's mortal enemy at school – 'super sneak' Barbie Meek. Between the two of them they set about making Suzi's school life a bit of a misery. And it seems for a while that they have in fact managed to do the one thing that could truly ruin Suzi's life – by framing her for a crime she didn't commit they contrive a way to make her miss sports day.
But with a little help from some unlikely quarters, Suzi manages to turn the tables on the dreadful Miss Grit and sneaky Barbie and there's evan an opportunity for a satisfying and delicious revenge on her nemesis.
Of course, you wouldn't expect me to tell you what that is, so you're going to have to get the book and find out for yourself……..
Guided for a reading age of 8 by the publisher, Barrington Stoke this is another in their range of 'super readable' stories. The book has the bonus of being illustrated in black and white by Julia Patton and I especially like her depiction of Miss Grit as a rather dumpy, malicious and fussy creature.
This is a delightful bit of wish-fulfilment for any younger reader who has found themselves on the wrong end of an injustice or who has been bullied by someone others think is an angel. If you like to see decency and fairness win the day the book will have you cheering for the underdog by the end.
Terry Potter
July 2019