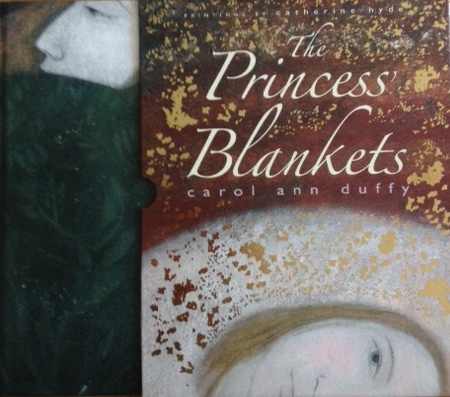 posted on 30 May 2019
The Princess Blankets by Carol Ann Duffy with paintings by Catherine Hyde
This really does qualify as a beautiful book in just about every sense of that phrase. The hardback is large format in a protective, decorative slipcase and Carol Ann Duffy's poetic fairy tale is framed by a set of wonderful paintings by the artist, Catherine Hyde.
Showcasing this book now is by way of paying tribute to Duffy who has just stepped down from her role as Poet Laureate – a post in which she never forgot the importance of continuing to write for children as well as adults. This little fairy story follows a very traditional structure and I can do no better than to reproduce the publishers own summary of the tale:
"A princess can never be warm and one day a stranger 'with hard, grey eyes like polished stones' arrives at the palace declaring that he can cure her malady. However, his solutions threaten the ocean, the forest, the mountain and the very earth itself and people's way of life along with it. It is only when the princess finds true love with a kind and gentle musician that her heart and body can be unfrozen and warm tears flow."
But this only tells a small part of the experience of reading the book. Duffy's poetic prose acts as an almost lilting spell that rocks the reader into its grip – the magic in the story being matched by the magic of the language that tells the simple tale.
Carol Ann Duffy's prose is heightened and enhanced by the paintings of Catherine Hyde. I'm careful here to say that they are paintings that accompany the text and not book illustrations. Hyde, who qualified in Fine Art Painting from the London School of Art, specialises in artworks that reflect nature, myth and landscape. The Lighthouse Gallery that deals in her paintings describes her talents in this way:
"Her works contain a strange atmosphere of stillness and fecundity with an iconic quality that is dreamlike and magical. They are expressions of significance and contemplation, landscapes that resound with the profound connection between all living things."
Her paintings in this book are images in close-up, flecked with gold, emerald green and other deep, rich colours that reflect the sea, earth, forest and mountains. They are almost literally breath-taking as each page or double-spread fills the paper and bleeds right off the page.
Although I'm certain that this book will be kept in the children's section in bookstores, I think that it will have appeal for adults too – whether they love great writing or are interested in the art.
Terry Potter
May 2019
(Click on any image below to view them in a slide-show format)