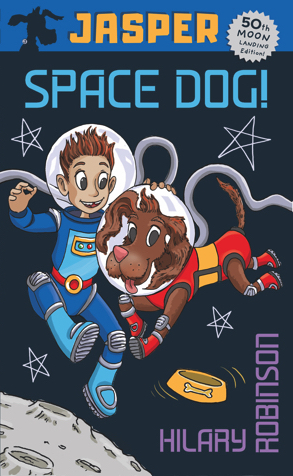 posted on 11 Apr 2019
Jasper: Space Dog by Hilary Robinson
This is the first in what will be a new series of books featuring the inquisitive pooch, Jasper and his equally enthusiastic owner and friend, Charlie Tanner. The focus for this first outing is space and, interestingly enough, at a time when the first commercial moon-landing is due to happen, this book looks back to the earlier days of space exploration and celebrates the 50th anniversary of Apollo 11's moon landing.
The format is a clever one – a series of letters from Charlie and Jasper to the fictional Rocket Scientist, Isabella Starr asking a series of amusing questions about space and the moon landing that elicit informative answers. The mix of fun and fact works well and details of the landing  - one of humanity's greatest ever achievements – is brought to life in a way that a rather drier, more scientifically concerned non-fiction book might struggle to do.
The author has made sure of her facts though and doesn't play fast and loose with the realities of space travel – astrophysicist, Dr Suzie Imber has checked out the details to ensure that they are accurate. So  Charlie and Jasper get to ask the questions any inquisitive young mind might want to pose to an expert – is the moon made of cheese, is there really a man in the moon, what about UFOs, did a cow really jump over the moon – and the answers that come back are also playful but packed with real and useful information that gives you a sense of the realities of space and the moon mission.
The book is also enhanced by artwork from Lewis James, a brand new illustrator who graduated from a Prince's Trust Enterprise scheme. The biggest accolade I can give is that I would never have guessed that this was his first stab at children's book illustration – the drawings are delightful and perfectly suited to the text.
The publishers, Strauss House Productions, have also gone the extra mile when it comes to production issues. Janet Gough was recruited to be the literacy consultant and alongside two educational editors they have created a book with reduced text, dyslexie font and a cream paper that makes it accessible and easy to read.
Future Jasper and Charlie books are already in pre-production and we can expect some fun with Vikings, Green Issues and Rock in the future. These are titles that are sure to be great for school libraries and classrooms but they're also going to be fun to read together at home.
Terry Potter
April 2019