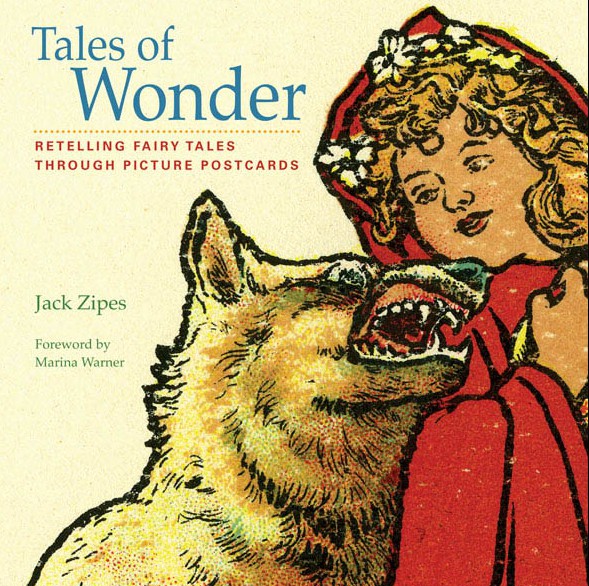 posted on 22 Mar 2019
Tales of Wonder by Jack Zipes
Back in June of last year we published an interview on this site with Jack Zipes who we described then as being ' known for his lectures and published works on fairy tales, how they evolved, and the social and political significance of those works.' Naturally enough, the focus is usually on his scholarly work and analytical books but this glorious, lavishly illustrated, large format book takes a slightly different approach.
The sub-title of the book in itself gives you a good, working idea of its theme – 'Retelling Fairy Tales Through Picture Postcards' – but don't make the mistake of thinking this is just a piece of whimsy based on ephemera. The postcards represented here come from Zipes's own, personal collection and this underlines the seriousness with which he approaches his subject.
This is not, in fact, the only time Zipes has written about the significant contribution the mass market art of postcards has made to the interpretation of fairy tales. His paper, presented in lecture form for the Department of Folklore at Utah State University in 2017, entitled 'Flying Tales of Wonder: Fairy - Tale Postcards as Memes'  address similar issues in a more academic form. In that lecture, Zipes argues, as he does in Tales of Wonder:
"These fairy-tale cards want to disturb the viewers and make them re-consider the fairy tale image which is used to evoke sentiments in the sender and receiver of the card, leading to a retelling or new telling of a fairy tale. In addition to retelling and representing well-known tales, the postcards often portray storytellers and scenes in which stories are recounted. In some ways, the postcards document the importance of storytelling for entertainment and also for socialization. It was through the oral tradition that children, depicted in many storytelling scenes, learned folk and fairy tales and passed them on. The postcards reinforced the significance of oral storytelling and provided images of the stories and the scenes in which folk and fairy tales were told and disseminated. Just as the tales flew through the air and stuck in the minds of young and old, so, too, the postcards flew through the air, landed, and marked a new telling of tales relevant to people's lives."
But this collection isn't just about the beautiful collection of postcards, oil paintings, watercolors, photographs, ink drawings, and silhouettes that Zipes has selected from his 3,000 strong personal cache: he also gives us his own translations of some of the classical fairy stories of Europe -  including Little Red Riding Hood, Cinderella, Snow White and Sleeping Beauty. We also get what he calls a 'melange of Hans Christian Andersen', Russian Fairy Tales and what he refers to as postcards based on Fairy-Tale novels – Alice in Wonderland and Pinocchio amongst others.
The bonus is that there is also an excellent, ever-thoughtful introduction that's been written by Marina Warner, herself no slouch when it comes to the scholarship of fairy tales.
But as wonderful as all this is, it's without doubt the postcard art that grabs your attention and it's pretty clear that the book has been designed to showcase these in the most sumptuous way. I'm not going to pick out favourites because in this case it would be fatuous – each time you turn the page there's a new favourite to find.
The downside of this feast for the eyes and the mind is the cost. As you might imagine, this is not a cheap book. You'll struggle to find one for less than £30 and you may well have to pay more. But, believe me, it's not expensive when you consider the chest of treasure it represents.
Terry Potter
March 2019
(Click on any image below to view them all in a slide show format)