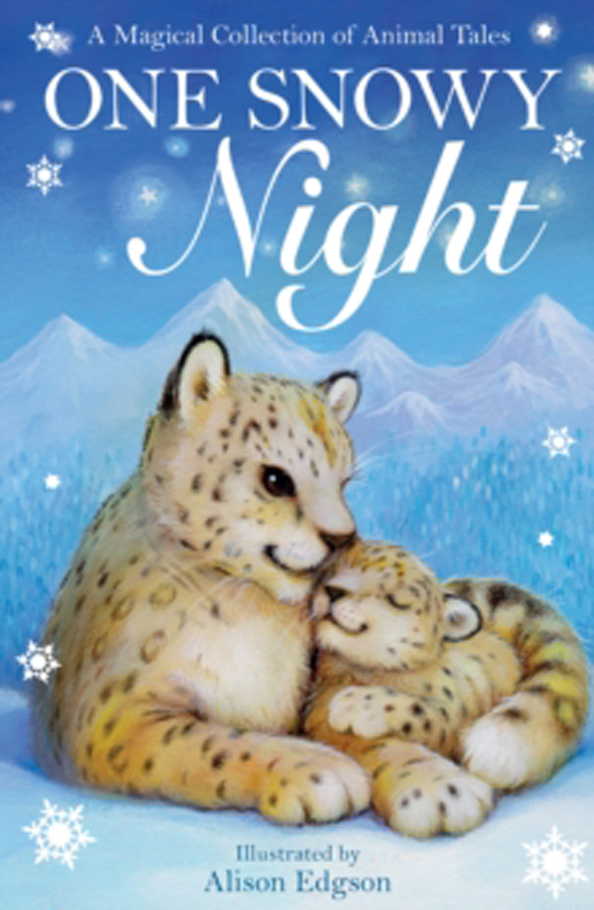 posted on 05 Dec 2018
One Snowy Night illustrated by Alison Edgson
When snow falls across the world, it becomes the background landscape for some magical experiences in this themed collection of ten stories by some well -known authors. We read about a squirrel who hosts the perfect winter party for his friends, a little yak herder in Tibet who listens to a story about a kind Yeti as he waits for his father to return home, the discovery of a Snow leopard cub whilst on holiday in Tibet and much more. I liked the way that each story stands alone in presenting a very different perspective on the snowy night theme, sometimes with an animal as narrator, but all bound together with the soft, atmospheric, black and white illustrations by Alison Edgson. It was difficult to choose but here are three of my favourites:
Mimoo and Mum-Mum by Candy Gourlay
Seeing and feeling snow for the first time is an extraordinary experience whether one is a human or an animal. This is certainly the case for Mimoo, a young panda living up in the high mountains of China with her mother. She is open mouthed with wonder as she watches everything become transformed:
'Every branch wore heavy sleeves of snow. And the forest floor had completely disappeared under a thick white blanket. Every boulder wore a funny white cap. Everywhere, pillows of snow lay, fat and inviting'.
She just can't resist jumping into a snowdrift and then enjoys the strange experience of rolling down a steep hill inside a huge snowball until she realises that she is now completely lost. Luckily she meets Pao, a friendly brown bear who provides reassurance but warns her against the predatory yellow throated Martens with their 'long tails swishing and pointy teeth'. Mum-Mum eventually finds Mimoo but only manages to rescue her with the help of Chu the pika who is 'a tiny brown creature with standing up ears.'  This is a story about how imaginative inter-species teamwork can outwit the baddies as well as the underlying message of needing to listen to wise parental advice about snow.         
The Christmas Purr by Leila Rasheed
Closer to home is the story about how a kitten, newly arrived from an animal shelter has to learn to trust her new family. It is Christmas Eve and she sits and watches the festive preparations warily from the safety of a box in the utility room, although she is rather puzzled when the little girl states that she only wants socks as a present. The kitten ventures out to eat some food once everyone has gone to bed but the girl, Mariam appears again, gives her a soft toy to play with and then tells her all about Socks, the cat who used to live in the house. Despite her kindness, the kitten still isn't convinced that she wants to stay but looks out of the window and sees that snow is falling heavily, so knows that she will have to wait for a while until it clears. The big family dog is very friendly and tries to convince her that Christmas is a happy time, but the kitten has very bad memories of the year before when she was abandoned because the family got fed up with their new pet:
'Christmas isn't a time for giving. It's a time for throwing things away. Things like me'.
But everyone knows that magic can happen on Christmas Eve so as she peers through the cat flap:
'The cold hit me – a tingle down my spine that gave every hair a secret, icy shiver. I lifted a paw to step onto the snowy path but when I looked to the garden gate …'
Without spoiling the plot, I can guarantee a happy ending to this one.
All of the stories in this collection have their individual charm, but I think that the one with the most impact for me was probably:
A Robin's Welcome by Sita Brahmachari
Rabina needs to think up a good story to write for homework as their teacher has asked them to begin with the sentence 'One snowy night…' . Wearing her favourite red scarf, she and her friend Femi feel uninspired until they 'walk home through the park together, eyes up. Sky is white … heavy and waiting'.
They spot a Robin in a tree and ask it whether it will snow. As they settle down later for a sleepover Rabina tells Femi the true story about why she always wears her red scarf when it is cold. She explains that long ago, her Grandmother was fretting about the need for warm clothes as they travelled together to 'Snowland' in a plane, sadly leaving their own land forever. She had started knitting the scarf for Rabina during the journey:
"I will knit it for you with my own hands. I will knit us to a new land."
When they were met at the airport by a distant family member, she exclaimed that the scarf is 'Robin red breast red…  A friendly bird of winter.  It never treats you like a stranger'.
On the first day in their new home, Rabina sees a Robin hopping on the cold ground outside.  Later that night, she looks out of the window and sees:
           White
                     flowers
            floated
                        from the sky and
landed on the earth
           like blossom.
It seems as if her fate is linked to this beautiful bird and the story goes on to tell about how she saves it from dying. This is a profoundly moving story that has many layers, the experience of the cold snow being a metaphor for the strange beauty of an unfamiliar but ultimately welcoming country.
I strongly recommend this interesting, well written book which would make a very fitting present for any child who loves animals, Christmas or just snow. Wrap up warm when you read it.
Karen Argent
December 2018