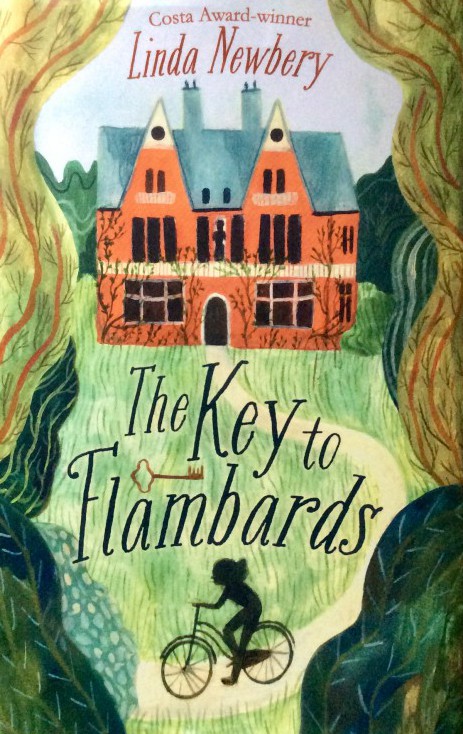 posted on 07 Oct 2018
The Key to Flambards by Linda Newbery
When I was a child I must confess that I preferred ballet stories to horsey stories - there seemed to be an awful lot of both genres about in the distant 1960s. That might be why I never tried the renowned 'Flambards' family saga quartet of books written by K.M.Peyton in 1967 that are set in an Essex country house which had horses-a-plenty. The world of gymkhanas, hunting and dressage and an upper class perspective on life in the countryside still holds little appeal for me, so when I initially read the promotional blurb, this book stayed on my bedside table for quite a few weeks.
But what a very pleasant surprise I had when I started reading this fascinating story that is set in the present day when ' Flambards' is no longer a private house owned by a privileged family and has now been turned into a residential arts centre run by Roger who has a distant family connection to the original residents. A family tree at the start of a story like this is always helpful and I found myself referring back to it several times to check some complex relationships.
The central character is Grace Russell, the fourteen year old great grand daughter of Christina and grand daughter of Isobel Russell ( both now deceased), who used to live at 'Flambards' many years ago. Isobel used to tell many stories about the place to her daughter and grand daughter so that there has always been a strong emotional connection, although they have never visited the place. Grace has had to adjust to some very difficult incidents in her previously untroubled life. Her parents have recently divorced so she is adjusting to living alone with her mother. More significantly, she has survived a devastating accident that happened the year before that has left her with a lifelong injury. She is making good progress with her recovery but is still very fragile and anxious about going into unfamiliar environments where she has to meet new people.
When her mother is invited by Roger to take a temporary summer job at 'Flambards' with the remit of promoting the location to a wider audience, as the business is under threat, Grace is curious to see the place but understandably is also full of trepidation. It takes a while for her to settle into her new surroundings but within days she is enchanted by the place with its interesting history, friendly people and stunning estate. She learns to look at and appreciate nature with the help of Jamie, a fifteen year old boy who wants to grow up to be like his hero Chris Packham. There are many wonderful descriptions of otters playing, glimpses of birds from the hide in the woods and the beautiful stillness of nature on a hot sunny day.
After only a couple of weeks she has also become firm friends with Marcus, Chloe, Skye and Plum, who is a docile pony. I suspected that there would be quite a bit of horse related content in the new story, but I managed it ok. Learning to ride Plum plays a very important part in helping Grace to develop her self confidence and she dreads the time when the holidays will be over and she has to leave everything behind.
Not everything is sweet and rosy in her newly discovered world and she comes up against other people's personal problems several times, both in the past as she finds out about the history of ' Flambards' and in the present difficulties of Marcus whose dad has unresolved mental health problems. These experiences are all part of her growing maturity where in the six weeks of the summer holiday she learns about herself and her own capabilities alongside trying to become less self centred and feeling sorry for herself.
An afterword by K.M.Peyton explains that she is delighted with the way in which Linda Newbury has reimagined her original creation. The characters of her books have always kept living in her imagination and Christina 'is still one of my best friends as we both approach our nineties' .
If like me you are a fan of old fashioned classics like Anne of Green Gables and Pollyanna, then this will be right up your street, although Grace is a much more likeable character than either of those rather irritating heroines. I also liked the portrayal of Jamie and Marcus who are both kind and sensitive young men. The overall atmosphere of 'Flambards' is cosy and safe and a place where growing up as a teenager might seem a little too dull and gentle at times. On the other hand, it shows the splendour of the natural world and the relevance of knowing and understanding the terrible history of World War One. It also demonstrates how campaigning for environmental concerns can be an exciting way for young people to demonstrate independence and maturity.
Karen Argent
October 2018