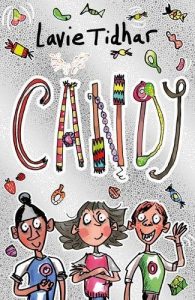 posted on 11 Jul 2018
Candy by Lavie Tidhar
Imagine a world where sweets, chocolate, cake, ice cream and all things delicious are banned and where those who crave an illegal 'fix' are in danger of being arrested. This is the ghastly state of affairs for all those who live in a city where an over- zealous mayor has convinced the electorate that this is a good idea. As you might expect, despite all the propaganda about the benefits of healthy eating, lots of people are determined to keep eating the forbidden food and so the air is ripe for black market exploitation.
The story is told by twelve year old Nelle Faulkner who has a penchant for detective work and this leads her into some very sticky situations where she has to make important decisions. When the twelve and a half year old candy smuggler, Eddie de Menthe seeks her help in finding a stolen teddy bear, she becomes embroiled in a feud that goes back several years. She is told that the teddy once belonged to Mr Farnsworth who had owned the biggest chocolate factory in the city and who has mysteriously disappeared since it was forcibly closed down. The occasional reverie describing the sensuous joys of chocolate is strongly reminiscent of Roald Dahl's writing and made me equally hungry. The author is clearly a fan of 'Charlie and the Chocolate Factory' and even makes reference to an old song about a golden ticket.
As in the times of US Prohibition, various individuals and gangs roam the streets and illegal deals are done all over the city. Children are at the heart of this particular story as the territory is carved up between nefarious young entrepreneurs who are determined to make a profit. This means fierce competition between The Raisin Gang, the Kandy Krew and the Chocoholics to name but a few.
One of my favourite baddies is Mary 'Sweetcakes' Ratchet, a notorious bully described as 'a big mean suet of a girl with fists like giant sweet potato pies'. She and her Sweetie Pies gang terrorise other children and at first seem to have no scruples at all in building an empire. Another excellent shady character is thirteen year old Elmore 'Waffles' McKenzie, a very spoilt boy who rules the roost at his family mansion while his parents seem to be gallivanting about the world. I couldn't help but be reminded of Bruce Bogtrotter in 'Matilda' as he greedily stuffs his face in the way Nelle describes when she goes to his birthday party and finds she is the only guest:
'I stared in fascination and revulsion at the monstrosity on his plate... Waffles wielded a spoon sticky with sauce. Ice cream and crumbs stuck to the corners of his mouth as the spoon moved rhythmically, empty on the way down, full on the way up. Down and up, into his mouth, which moved without stopping. His eyes had a fixed, glazed expression'.
He is looked after by a solemn Jeeves like butler, Mr Foxglove, who panders to his whims but is clearly looking out for his welfare. Could he also be one of the baddies and can any of the adults be trusted?
Quite a lot of the action happens in the public library which is a clever nudge about the importance of such places. The zany pace of the story is made even better by the many wonderful illustrations by Mark Beech whose style reminded me of a cross between Quentin Blake and Tony Ross. It seems a shame that his name only appears in small print on the back cover rather than alongside the author where it belongs. I particularly liked the character profiles at the end of the book with their likes and dislikes as Nelle the narrator shines through with the admirable motto: 'Do the right thing , whatever the cost'.
This is a rumbustious story packed with adult villains, plenty of humour, some clever plot twists and cunning children. With its Dahl like favour and what the publicity describes as a 'glorious film noir style narrative' it is bound to be a roaring success with both children and adults. This is the first children's novel by this Israeli born author who has already written several award winning books for adults. I suspect that there might be at least one other exciting adventure for Nelle and her pals on the horizon in the near future.
Karen Argent
July 2018