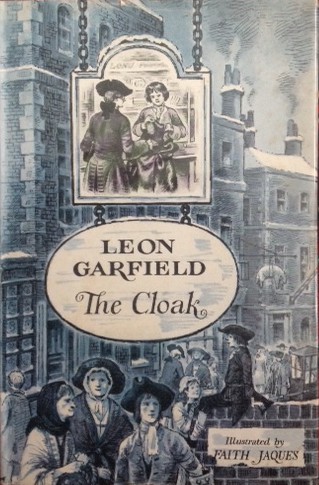 posted on 12 May 2018
The Cloak by Leon Garfield
Leon Garfield (1921 – 1996) was a prolific writer of historical fiction for children – he would probably now be marketed in the modern parlance as a writer for young adults. His specialism was the creation of settings that use 18th and 19th century London as their backdrop but in the 1970s he also branched out into retellings of the Classical myths and Shakespeare for young readers which he worked on with the wonderful illustrator, Michael Foreman.
Other critics have noted the debt Garfield owed to the work of Stevenson and Dickens but he certainly had a style that was all his own and his young protagonists were often the working class, those on the edges of the criminal underworld or street children.
I have personally always been drawn to the twelve book sequence of short novels usually called the Apprentice Series which has, at its heart, a really simple but clever structure. In the 12 stories we get to meet a series of apprentices in different occupations, each one with an adventure to tell, and which weave across and reference each other. It's now commonplace to see the twelve tales brought together and published as one book but they were originally printed independently by Heinemann in beautifully produced slim volumes. The bonus of these separate titles is that they were also magnificently illustrated by the brilliant Faith Jaques.
I haven't read all twelve of the books but, of the ones I've had a chance to look at, my current favourite is The Cloak. In this story the two apprentices at the centre of the story are smug, self-satisfied lads – Coot and Jeremiah - working for well-established pawnbrokers. They have taken to their unpleasant work with gusto and are doing well-enough to be left alone by their masters to look after the shop while the owners go on holiday. Not satisfied with doing their job, they have worked out a scam between themselves to get extra money by pawning goods originally pawned to them to each other – a fraud that depends on the pawned goods never being redeemed by the original owner.
On New Year's Day a gypsy woman turns up at one of the pawnbrokers with a valuable and clearly expensive cloak. Coot, the young pawnbroker, greeting her with insults and threats, bullies her into accepting a very meagre price for the cloak. Never expecting that it will be redeemed, Coot scuttles off to see Jeremiah and they work their scam, putting a princely £6 into their pocket – which they immediately go out and blow on drink and women.
However, when they return to Coot's place of work, they find a very tall, noble looking man waiting for them claiming that the cloak is his and was stolen from him by the Gypsy woman. He also seems to have evidence that the cloak is his and is threatening to call the police unless the cloak is returned or a fee of £10 paid to reimburse him for his loss.
How will the apprentices deal with this? How can they find the money they've already spent? What's going to happen to them when their masters come back in a day's time?
Well, I'm not telling. You will have to read the conclusion for yourself but I can tell you that this is a very moral tale that doles out a suitable sort of punishment to the two young apprentices.
As you might also expect with an artist like Faith Jacques involved, the illustrations are superb and are central to capturing the historical backdrop that is central to Garfield's world.
These stories are relatively short and would be ideal for young readers who don't want to tackle longer stories and they open up a window on the past that's not tediously educational and so although they are now over 40 years old, I'd argue they are still entirely accessible and relevant.
Terry Potter
May 2018
(Click on any image below to view the pictures in a slide show format)