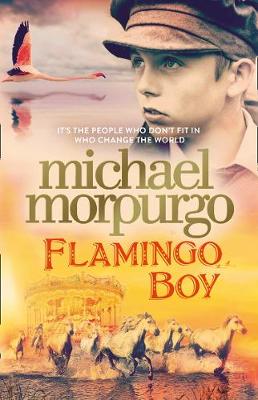 posted on 13 Apr 2018
Flamingo Boy by Michael Morpurgo
It is so pleasing to discover an author who never disappoints, especially one as prolific as Michael Morpurgo. He is a master storyteller because he always manages to create a believable plot peopled with a range of interesting and charismatic characters. At the same time, he is able to educate his readers about aspects of history and to convey a sense of what is decent behaviour despite terrible circumstances.
'War Horse' must be one of his most perfect fictional creations in this respect, and is now generally regarded as a modern classic. Part of this status is because it was so successfully reinterpreted for the stage and made into a film, but both of these were pretty faithful to the original book. 'Flamingo Boy' might be another story that endures and could be adapted into other formats very successfully. It is packed with action and jeopardy throughout, all set against a gorgeously coloured landscape in 'a wild and wonderful place of flying pink flamingos'.
The story begins with introducing us to Vincent, a young man who decides to travel abroad after finishing his 'A' levels because, like many eighteen year olds, he feels restless and confined by his dull suburban life. He has always loved the picture of boats on a beach signed by his namesake which has been hanging on his bedroom wall for as long as he can remember. When one day it crashes down he finds a letter pushed into the back written by his long dead grandparents who explain that it is by Vincent Van Gogh and was painted in the Carmargue region in the south of France. This inspires him to begin his adventures in this part of the world and so neatly sets the scene for the very intriguing story that follows.
After some time travelling through 'the strange and mysterious landscape' which although beautiful 'was desolate too and inhospitable, especially when the wind howled and roared', he falls very ill and is rescued by a passing stranger, Lorenzo who takes him back to recover on the farm where he lives. There he meets Kezia, a kind middle aged English speaking woman who slowly nurses him back to health. As she does so over several weeks, she tells him the curious story of how she and Lorenzo came to live together on the isolated farm and to look after one another.
She explains that Lorenzo was the only child of Nancy and Henri Sully and had always been looked after by them on their farm because he had learning difficulties that make it very difficult for him to relate to other people.   He is clearly on the autistic spectrum, although this is not specified, but has the recognisable traits of poor communication and social skills. Despite these problems he has always loved looking after animals and shows impressive empathy, particularly with the farm horses and the many flamingos that nest in the region, hence he comes to be known as 'Flamingo Boy'. Kezia is a Roma woman who travelled through France with her parents when she was a child helping to run a beautiful carousel. The happy  rhythm of her nomadic life began to change in 1942 when they decided that she needed to have  a formal education and so sent her to school in the small town of Aigues- Mortes  which was one of their regular stopping off points and near to the farm where Lorenzo lives with his family. Because of her ethnicity, Kezia is horribly bullied by both the children and most of the staff at the local school and so refused to go back. Luckily she was offered an alternative education by Nancy who promised to gives her lessons at the farm in exchange for Lorenzo having a free weekly ride on the carousel which he loved. The two children began to form a very close friendship and played together as if they were brother and sister.
Those of us readers who know their history might be starting to feel uncomfortable at this set of circumstances described by Kezia, especially when she reaches the part where the German army arrived to occupy the small town. Clearly this was not good news for Roma people or those who had any disabilities and Kezia explains to Vincent how their lives had to dramatically change if they were to stay safe. These were very dangerous times and it was difficult to know who could be trusted in a small community. As with 'Warhorse', Morpurgo is keen to point out that individual German soldiers are human beings with back stories and this includes many caring and compassionate people like the very helpful Corporal who tries his best to protect both families.
More than ever, children need to read stories where war is not glorified but presented as an unwelcome interruption to normal everyday life that everyone wants to resume – no matter which side they are on. This is a wonderful tale about two children who endure truly terrible times but go on to have good satisfying peaceful lives. It is an example of a story that carries many dire warnings balanced with optimistic messages of recovery. Apart from caring about the survival of humans, this author also treasures the natural world and the importance of looking after birds and their natural habitats. Through the eyes of the now recovered Vincent we learn that friendship, loyalty and hope alongside respect for all living creatures will always matter more than anything else   
 Karen Argent
April 2018