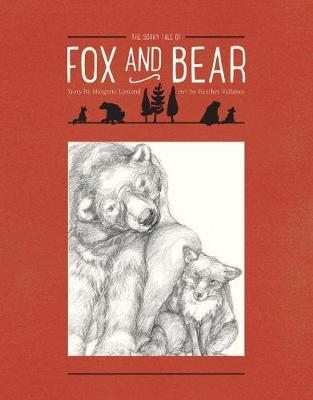 posted on 08 Feb 2018
The Sorry Tale of Fox and Bear by Margrete Lamond, illustrated by Heather Vallance
Old Barn Books is an independent publisher that prides itself on selecting books with 'clear writing, enhanced with evocative imagery' and this one is a great example. Before writing about the book itself I need to tell you about the impressive attention spent to presenting the review copy which arrived in the post gift wrapped and beribboned - this publisher wins The Letterpress Project prize for beautiful packaging.
The story written and illustrated by an Australian author/publisher and artist unfolds in five chapters and tells the tender and eventful story of the relationship between a fox and a bear as seen through a letter discovered stuffed into a hollow log:
'It was a letter of pain and love
and anger and regret'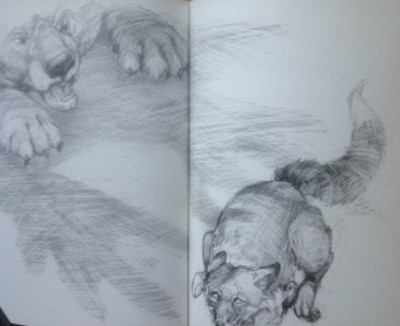 So from the outset this is about deeply held emotions as bear tries to explain how he feels. The exquisite sketched pencil drawings throughout give the book an extraordinary personal quality, rather as if they accompanied a real letter and help to express the way in which the unusual friendship between Bear and Fox evolved. As ever in traditional tales, Fox is a wily trickster and Bear is wise to this – in fact he gives the impression that he is rather impressed by his rascally ways. On the other hand, he reflects that early in their relationship he has memories of him causing actual physical pain when he persuaded him to try catching fish with his tail, and loses it as a result. The energetic illustrations for this sequence convey the struggle as he climbs out of the icy water with difficulty and lumbers into a sitting position. All we see of fox is his bushy tail and hind legs as he escapes the scene.   As the watching Rooster exclaims 'That Fox was meaner than a mouthful of wasps.'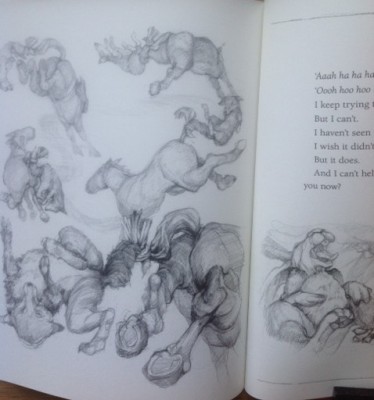 After a long winter Bear remembers waking up hungry, only to be tricked again by Fox. This time he persuades him to exchange a salmon for a beehive full of dripping golden honey – except that it turns out to be a wasp's nest and Fox runs off with the fish. All the other animals keep telling Bear how stupid he had been to keep falling for the mean pranks.  He does learn from his mistakes however and starts to react angrily, refining his skills to outwit Fox. He persuades him to tie himself to a horse's tail so that he can bite it hard on the rump and capture it to kill and eat. Another sequence of drawings demonstrates that this is definitely not good advice and he escapes very battered and bruised.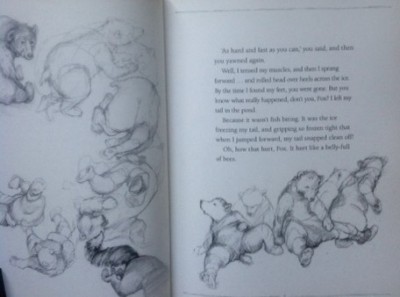 In the final chapter Hare recounts to Bear that he recently told the injured Fox a tall tale about his marrying a troll-hag with a sack of gold, and then laughs uproariously when he is believed. Once again, the drawings show him rolling about overcome with the pleasure of humiliating Fox – you can almost hear the hysterical laughter as Fox slinks away off the page.
But despite his many failings, Bear realises that Fox never called him by derogatory names as the other animals are inclined to do. Throughout the story they unkindly describe Bear as being 'a dummy', 'crazy' and ' witless' and in a bid to win Bear's friendship, they are over eager to badmouth Fox as well:
'That sneak! That cad! That coward!
That cheat! That liar! That crook!
That bad egg! That rotten apple!'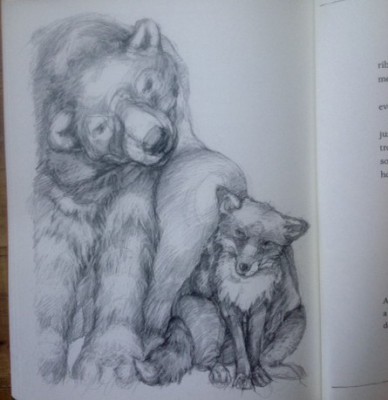 After weighing everything up – Bear decides that he wants to rebuild the friendship despite his many faults and I would guess that they go on to have many more adventures.
 I really enjoyed this modern retelling of a traditional story presented in this stunning format. I can imagine sharing it with children who will be outraged at what the cunning Fox gets up to but at the same time recognise the importance of valuing kindness and true friendship, warts and all. I was reviewing a proof copy of the book with a soft cover but understand that the final publication will 'have thick cream cartridge textpaper and a ribbon marker, with a debossed panel for the cover illustration' – yum yum!      
Karen Argent
February 2018