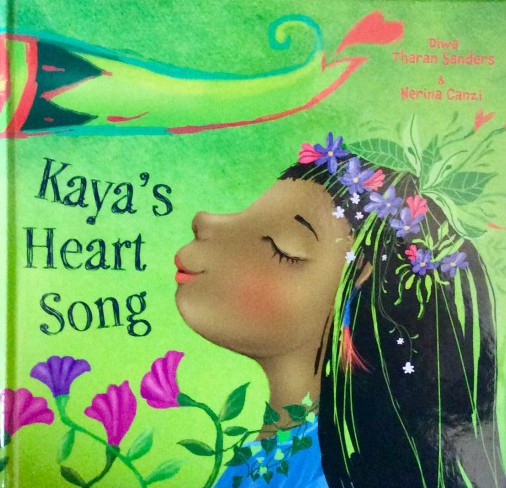 posted on 01 Feb 2018
Kaya's Heart Song by Diwa Tharan Sanders and Nerina Canzi
As soon as I saw the cover of this beautiful picture book I was captivated. Who could resist the blissful expression of a little girl, eyes closed and head adorned with wild flowers as she faces towards more flowers and what looks like a heavily decorated elephant's trunk. The use of dense colour, particularly greens, pinks and purple is extraordinary and is continued on the heavily patterned end papers. But, just to make sure all this colour doesn't give you a sensory overload, we also get a lively black and white illustration spread across both pages of five children riding with an adult on the back of an elephant with hearts coming from his trunk. Really lovely stuff.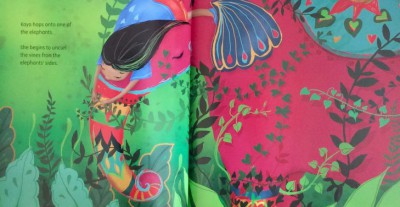 The story begins with the girl Kaya curiously watching her Mama as she sits, humming, in a yoga position.  She explains 'That was my heart song. Happy hearts have their own songs … Let me tell you a secret – if you have a heart song, anything is possible. Even magic!' and goes on to encourage Kaya to try to listen for one of her own. This becomes her quest as she runs to play outside and soon follows a butterfly into the jungle. This takes her to her friend Pak, a man who guards a gate which leads to a broken elephant carousel which shines out incongruously amongst the dense green foliage.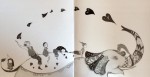 As Kaya uncurls the vines she reveals the most sumptuous sight. This is a picture book that is packed with gorgeous colour on every page and one that emphasises the importance of taking time to absorb and consider its beauty. As she looks at what is revealed and imagines that she is a princess who rides the elephant down the jungle paths, 'Her mind quietens and becomes very still'. The magic begins as she hears a soft beat that becomes a tune and all at once the carousel is moving to its rhythm. The beautifully patterned elephants come to life and move away from the carousel in time to the music. She smiles as she realises that she has found her own special heart song:
Boom taktak boom taktak boom
   Shick shak shook
Boom taktak boom taktak boom
   Shick shack shook
She is joined by many friends and together they enjoy riding on the magical elephants bewitched by the strange compelling music.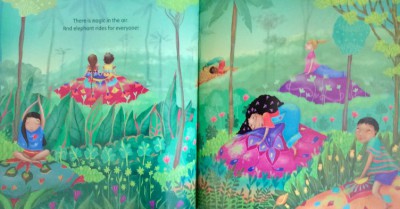 The final page provides some information about the recently fashionable idea of 'mindfulness' which is what the story is really all about. The underlying message of developing calm self- awareness and the ability to reflect and meditate is welcome and to be encouraged. I strongly recommend this picture book because it stands out with its overall aesthetic design which is a feature of all books created by Lantana Publishing. As such, it is one to be devoured with tremendous satisfaction by readers of all ages but it would definitely provide inspiration for imaginative storytelling, creative art work, poetry and musical composition by children.     
Karen Argent
January 2018