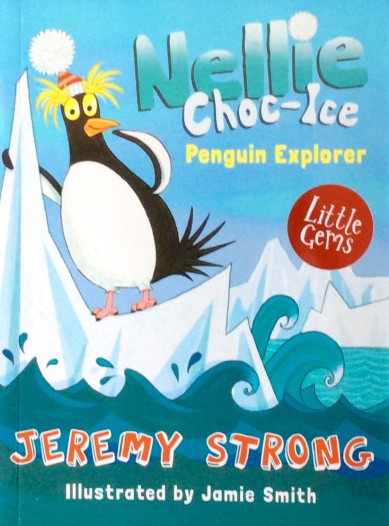 posted on 05 Sep 2017
Nellie Choc-Ice -  Penguin Explorer by Jeremy Strong, illustrated by Jamie Smith
I really like the format of the Little Gems' series of books published by Barrington Stoke. They somehow manage to be slim yet pleasingly chunky at the same time with great attention paid to the overall design. Packaged with a sturdy book jacket, lovely end papers, plenty of colourful illustrations throughout plus a pacey plot and lots of facts about penguins, their habitats and information about recycling makes this one a must for young readers.
The author Jeremy Strong is renowned for writing energetic stories that make children laugh and this one is no exception. I really like the way that he talks directly to the reader, rather in the manner of another favourite author of mine, Lemony Snicket, and in this way makes it clear that this is an adventure story about a famous penguin and, he cautions:
If you don't want to know then you may as well go and read something else, like " The Very Boring Adventures of a Penguin that Didn't Do Anything".
Perhaps this is a risky challenge but I think that the majority would continue! Nellie Choc- Ice was named at birth by Grand-Pa Penguin because of her resemblance to that distinctive ice cream. She is a Macaroni Penguin who lives happily at the South Pole with her hundreds of relatives, including 'one very small uncle who wore a hat and played the guitar'. Her big adventure begins when she mistakes the periscope of a submarine for a killer whale. She seeks safety on a nearby iceberg but it splits in two and drifts into the open sea with her clinging to the top.
As she travels across the ocean towards the equator she has an encounter with a very rude seagull and then when she finally arrives at the North Pole (which we are told is twelve thousand, four hundred and thirty miles away from her home), she has to outwit a very scary Polar Bear and a cunning Arctic Fox to avoid being eaten. All ends well eventually when she is rescued by the very same submarine that caused her to flee in the first place and she is looked after by the rather wonderful Rear Admiral Captain Beardy Beard and his crew who take her back to Antarctica.
This exciting little story is organised into chapters that often have questions like ' Will Nellie's world melt away to nothing?' And ' How can Nellie escape' used as headings to entice the reader to read further. The plentiful full page illustrations by Jamie Smith throughout the book bring all the characters alive and particularly emphasise Nellie's cheerful pluckiness. It seems that is only the first of her adventures because the last page tells us that Nellie and Captain Beardy Beard got into some trouble on the journey back -  'But that's another story'.
 I have a feeling that these two will become very popular with young readers.
Karen Argent
September 2017