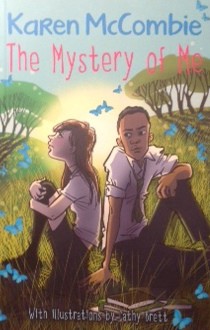 posted on 22 Jul 2017
The Mystery of Me by Karen McCombie
It's always a little odd settling down to write a review of a book like this because I'm clearly not the target audience. Having said that it's always good for me to see the kind of story that might appeal to children of about 8 or 9+ who aren't strong or easy readers. On top of that I always welcome something that comes from the thoughtful folk at Barrington Stoke who always try so hard to make their books not just an accessible read but an exciting one too.
The Mystery of Me by Karen McCombie is no exception to the rule. This is the story of Ketty who is recovering from a serious head injury that she received as the result of the coach crashing when on a school trip. Her eventual return to school is fraught with worries because her memory has been affected. She manages to get through the first few days, largely due to Otis, a boy who seems to be very willing to help her. Together they piece together the mystery surrounding her accident because it seems very strange that nobody else was badly injured. She also learns some uncomfortable truths about herself in the process.
Although it is very short with only nine brief chapters, the author succeeds in a achieving a slow- burning reveal that surprised me and so it would be remiss of me to spoil it for you. I would strongly recommend  this compelling and tightly written story with it's much more complex underlying messages about identity and new beginnings.
As ever, Barrington Stoke have paid great attention to the design of this slim book in order to encourage more reluctant readers. The layout of the text is well spaced on cream coloured paper and illustrated with lively drawings by the excellent and hugely experienced Cathy Brett. These illustrations aren't just there for decoration because they bring an important extra dimension to the reading experience and provide the young reader with an important visual frame of reference for the characters and the story.
All in all another success for the growing Barrington Stoke portfolio.
Karen Argent
July 2017