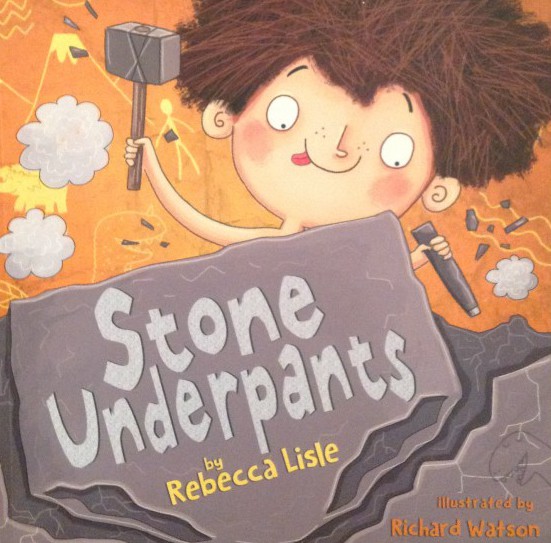 posted on 19 Dec 2016
Stone Underpants by Rebecca Lisle, illustrated byRichard Watson
This humorous picture book is one that will make young children laugh out loud, as seems to be the case with anything that involves pants and bottoms.The lively cartoonish pictures are a perfect complement to the text which tells the story of Pod who is feeling the cold and needs to make himself some warm underpants. As someone who grew up with The Flintstones the influences are very clear in the interior of his Stone Age house which has familiar modern home furnishings like a lamp and an arm chair - everything of course made of stone. 
Pod is a very resourceful young lad with a wild hairstyle reminiscent of Sideshow Bob in the Simpsons ( perhaps another influence)? The cover shows him enthusiastically bashing a huge stone against the background of an ochre coloured cave painting, one which is repeated in more detail across the end papers. Encouraged by his dad, he manages to make himself some stone underpants only to find out that they are not at all practical. His friends are far more nimble wearing their lighter leafy pants to play football and swim in the lake. Undeterred, he tries using wood instead but there are all too obvious problems with this material as well - particularly the splinters. And even if they had worked out - they are eaten by insects during the night as we see in a detailed double page spread, an illustration which I particularly liked. 
And so Pod then experiments with other available materials: shells, spider webs and mud, but all are hopeless. The mud version includes several attached worms which attract the birds and this gives him the inspiration to try using feathers. Once he has gathered enough, this multi talented boy turns his hand to the crafts of weaving, cutting, plaiting and sewing until at last he produces underpants that are ' light and soft and deliciously warm'. 
Although they are by far the best solution so far, they prove to be far too ticklish and so not at all practical. The illustration of him falling headfirst into a swamp as a result is one that will cause great mirth, and is another one of my favourites because it uses dramatic blocks of green and brown colours that add to the impact. His final big idea is to use the wool from a friendly mammoth and demonstrates further creative skills by knitting and knotting this into the required shape. At last he has cracked it and so is now able to do all his favourite activities in perfect comfort. His life is transformed and so apparently is history as this heralds the beginning of The Wool Age. All extremely silly and highly historically inaccurate but funny nevertheless. 
I can see this picture book being used in nurseries and schools as a stimulus for investigating properties of different materials and also hopefully as an excuse for the children to try out stonework, carpentry, weaving, sewing and knitting as well. Apart from that, it is a well structured little story with messages of perseverance and resourcefulness at its heart.
Karen Argent
December 2016