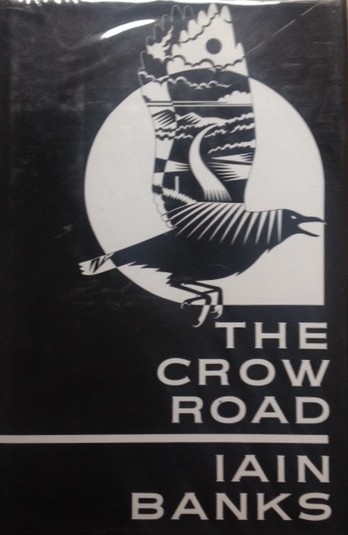 posted on 16 Nov 2020
The Crow Road by Iain Banks
This 500 page whopper of a book is, I suspect, the late Iain Banks' most popular novel. It's a compelling and oddly addictive blend of Bildungsroman and detective thriller that adds a fairly sizeable dollop of romance in the form of a frustrated love story. It's a homage to a certain kind of Scottish identity and it creates a rich blend of darkish comedy that is the perfect recipe for creating a 'page-turner'.
At the heart of the book is Prentice McHoan, failing university undergraduate and a member of a family that is full of eccentricities and mysteries. But Prentice is also astonishingly self-centred, overly fond of excessive drink binges and he's also searching for answers – although exactly what questions are in need of answers is often a bit hazy.
Prentice is also in unrequited love with the delectable Verity and spends inordinate amounts of time lamenting her inaccessibility to his long-suffering best friend, Ash (Ashley), a young woman who is positively saintly in her tolerance of Prentice's increasingly tedious and maudlin drunken ramblings.
Banks introduces us to the splendidly drawn McHoan extended family – Prentice's charismatic older brother,  his mother and father and, crucially, his uncles Hamish and Rory. His grandparents also make their presence felt – most tellingly at the very opening of the book which has the now famous opening line:
"It was the day my grandmother exploded."
In case you're worried – and this isn't a spoiler – the explosion takes place at grandma's funeral when her pacemaker, which has mistakenly been left in place, explodes from the heat of the cremation fire. But it does help set the overall tone of the novel that hinges on a knife-edge between realism, farce, black comedy and tragedy.
Banks also takes a completely cavalier approach to time and zooms forwards and backwards across the years with very little by way of signals. But disconcerting as this sounds, it works and never leaves the reader nonplussed or dismayed – this isn't magic realism but cleverly constructed storytelling that somehow manages to sustain a pretty clear narrative direction.
The author also finds space for some wider political and philosophic cogitation during the course of sketching out the family McHoan. In particular Banks puts religion and the nature of religious belief under the spotlight – Uncle Hamish is religious zealot of sorts while his father is a hard-bitten atheist. Prentice, of course, finds himself unable to decide which way to fall but sort of believes in something bigger than himself – a set of ideas that has led to a breakdown of his relationship with his dad.
If the book had remained just the story of Prentice's journey towards greater maturity in the bosom of an eccentric family then it's probably not a story that would merit such a big fat reputation. What takes the book to another level is the underlying mystery thriller element – whatever happened to Uncle Rory, a writer who has disappeared and who may be alive but who may not be still alive? Prentice finds himself slowly being drawn deeper into the disappearance and, when he discovers some of Uncle Rory's enigmatic drafts to a novel called The Crow Road, his determination to resolve the mystery is given a rocket boost. The Crow Road, we discover is not just the name of a road in the neighbourhood but also a euphemism for dying – taking the Crow Road is the final journey to the grave.
What Prentice hadn't bargained for is that to solve the mystery of Uncle Rory's disappearance he will have to radically readjust his view of the world and of his family. He will also have to let go of his youthful obsession for Verity and discover who he really loves.
I'm guessing that you won't find the detective puzzle too hard to solve but you'll have a great ride on the helter-skelter of a story in the process and that makes it a worthwhile journey – if a touch predictable.
Paper and hardback copies aren't hard or expensive to find and if you want a great long read that's quality but not demanding, this is probably the one for you.
Terry Potter
November 2020