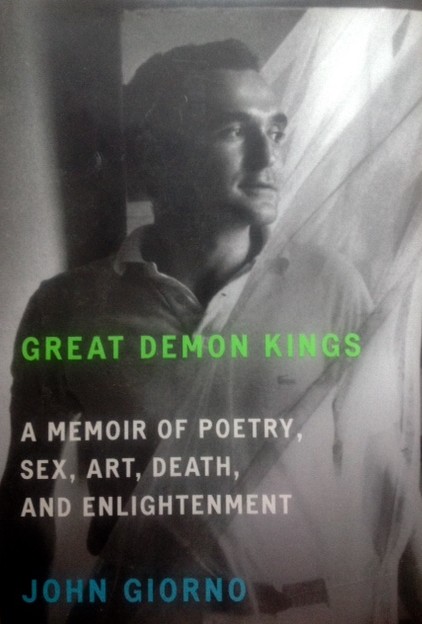 posted on 13 Oct 2020
Great Demon Kings: A Memoir of Poetry, Sex, Art, Death, and Enlightenment by John Giorno
"Great demon kings are people controlled by their big egos, but sometimes their egos inspire them to aspire to realise the empty true nature of mind: and they become Buddhas."
So says performance poet John Giorno at the end of his rollicking, extraordinarily frank autobiography which, after being in production for some 20 years, has eventually been published in the year following his death.
Giorno, who graduated from Colombia University and worked for a time as a stockbroker, was the product of privileged, professional New York parents. But this was 1962 and Giorno found himself fascinated and inspired by the tumultuous New York art scene and soon fell into that world – discovering the writing of Jack Kerouac and liberated emotionally by reading Alan Ginsberg's 'Howl'.
But things really changed for Giorno when he was introduced to the, then, up-and-coming artist, Andy Warhol. What followed was the first of a series of extraordinary and intense relationships that effectively shaped Giorno's world. Seemingly unafraid to reveal everything about his relationship with Warhol, what follows is a graphic description of their physical infatuation and their joint artistic progress. The embryonic poet's standing in this exciting and new world of pop and conceptual art was finally fully established by his being given the leading role in Warhol's first genre-busting movie, Sleep.
But Giorno knows that, at some point, Warhol will outgrow or tire of him and move on to the next 'project' – and that is, of course, precisely what happens. But it's not long before he becomes the constant companion of artist, Robert Raushenberg and, again, Giorno gives us an uncensored blow by blow (literally) account of their physical and emotional relationship. But Rauschenberg is not only a lover – he's an inspiration. He provides the poet with a link to the unknown Bob Moog, who is in the early stages of  developing the synthesizer that will revolutionise pop and rock music, and between them they pioneer a musical performance poetry.
But, to be honest Giorno's poetry doesn't really get that much of a look-in until pretty late on in this kiss-and-tell autobiography. It sometimes feels that the author defines himself by these torrid affairs – long and short term – with other artists. After Rauschenberg comes Jasper Johns and a very strange and ambiguous relationship with William Burroughs. There are other torrid sexual encounters along the way – including one rather unpleasant threesome between Giorno, Burroughs and Ginsberg.
I understand from other reviews of this book in the States that Rauschenberg was explosively angry when he discovered that Giorno's book was in production and threatened to sue if it was published. This was a problem that resolved itself in 2008 when he died and Giorno's own death in 2019 really opened the door to publication. But I can entirely understand why Rauschenberg was so animated about the book because it must be one of the most graphically frank I have read for some time.
By the time Giorno embarks on his autobiography, however, he has become a practicing Buddhist and although he seems happy to reveal the most intimate details of his relationships, he's never mean-spirited or bitter and he never bad-mouths anyone for his own aggrandisement. He came to dislike Alan Ginsberg intensely but even he is treated with genuine respect and Giorno is always happy to pay his dues to those who helped and influenced him.
The book really captures the atmosphere of creative 1960s New York and the gay community in particular and he does it with such relish and such life force that you'll be swept along with him.
Still only available in hardback you should expect to pay between £10 and 315 for a copy.
Terry Potter
October 2020