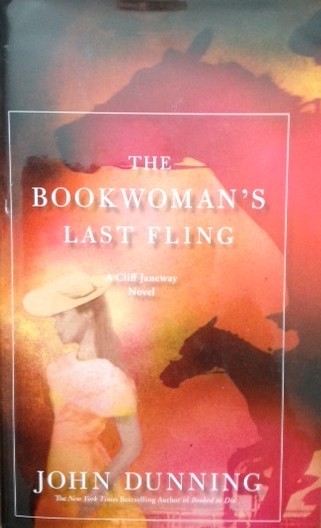 posted on 01 Dec 2019
The Bookwoman's Last Fling by John Dunning
This is the fifth and what seems likely to be the last in the popular Cliff Janeway biblio-detective, series of novels. This one was published in 2006 and there hasn't been another since as far as I know – so it seems we've reached the end of the line even though this one doesn't end with any sort of finale that suggests a full stop.
You'll find reviews of all the other four novels on the site (here, here, here and here) and given their formulaic structure, there will be nothing here to surprise the dedicated fan. Retired cop turned book dealer, Cliff Janeway finds himself embroiled in a mystery that this time links a drop-dead collection of perfect children's classics worth untold thousands and horse-racing. There's no doubt that the author is indulging himself here given that these two subjects, book collecting and horses, are his own personal passions. "Write about what you know" is an old adage and Dunning is taking to heart in this story of shady double-dealing, dysfunctional families and murder.
I've criticised Dunning in the past for finding himself drifting away from his USP and writing detective fiction in which the books are coincidental rather than structural to the story and once again I can't help but feel he's gone a bit too far down that same path. Although books do play a central role in the story, they are there as machinery to make the plot work rather than being the focus of events in themselves and I couldn't shake the feeling that you could have substituted paintings or antiques for the books and got the same result.
However, it's undeniably skilfully and engagingly plotted and as usual it lured me in and kept me there until the end. This summation of the plot taken from the audio cd version is probably as informative as it can get without being a spoiler:
"When wealthy horse trainer H. R. Geiger dies, Denver bookman Cliff Janeway encounters the legacy of the man's wife, Candice, a true bookwoman who left behind an assortment of rare first-edition children's books. Sent to assess the collection, Janeway soon finds that several titles are missing, replaced by cheap reprints -- while other hugely expensive pieces remain. Why would a thief take one priceless book and leave an equally valuable volume on the shelf? Suspecting foul play, Janeway follows the trail of Candice's shadowy past to California's Golden Gate and Santa Anita racetracks, where he signs on as a racehorse hot walker. Eavesdropping on the chatter among the hands, he doesn't like what he hears. And when he goes to the house where Candice died to look for answers, Janeway finds much more than he bargained for."
As with writers like Elmore Leonard, James Lee Burke, Carl Hiaasen et al., these books have their tried and trusted conventions, one of which is the truly horrible, reptilian, morally repugnant and unpredictably dangerous villain and Dunning creates his own version of that here with the vile Cameron Buick. And, also appropriately to the needs of the books conventions, he meets his end in a nasty fashion. And before you object, this isn't much of a spoiler if you've read anything in this kind of genre before.
So a good book but not a knock out and if it is the last in the series it leaves plenty in the life of Cliff Janeway dangling without resolution. All that leaves me wondering if there is someone out there who will, in the future, think it might be time to give him another outing?
Terry Potter
November 2019