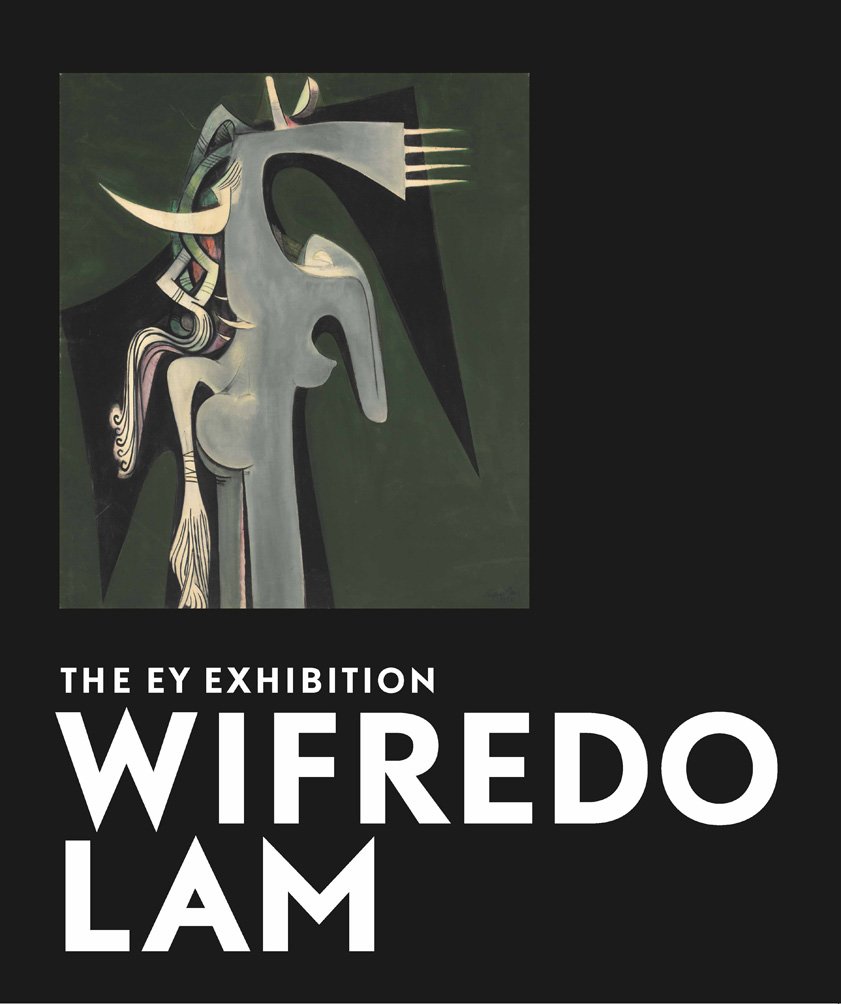 posted on 05 Nov 2019
Wifredo Lam: The EY Exhibition (ed. Catherine  David)
Sitting on its own in a box of assorted bric-a-brac outside a local junk (or is it 'vintage') shop I stumbled across a near perfect copy of a Tate Gallery publication, Wifredo Lam: The EY Exhibition. Wifredo Lam? Never heard of him. Given that the post-it note on the box said 'Everything £1' I picked it up and flicked through the pages. What I saw was remarkable. Why had I never heard of this artist before?
Scuttling home with the book under my arm I started doing some digging around and discovered quite a story. The Tate's own entry on Lam says:
"Wifredo Lam was a Cuban-born artist, best known for his large scale paintings which reference modernist aesthetics and Afro-Cuban imagery to explore themes of social injustice, spirituality and rebirth."
But that really barely scratches the surface of an extraordinary life – both as a man and as an artist. Born in 1902 of mixed heritage – with some part Congolese and some part Chinese ancestry – Lam moved to Havana to study law but by the time he was 18 or so he had become more interested in art and painting. Frustrated by the traditional teaching on offer, in 1923 he moved to Madrid to continue his studies in what was then the ferment of European experimentation. Rejecting all forms of classicism he came under the influence of Surrealism and was also heavy influenced by Matisse.
At the outbreak of the  Spanish Civil War, Lam fought for the Republican cause and his art was put to use for posters and propaganda purposes. He was wounded, sent to Barcelona to recuperate and there made a connection that would ultimately give him access to Pablo Picasso. In 1938 he moved to Paris and became a central part of the art scene and was championed by Picasso who strongly influenced his painting. With the outbreak of the Second World War he went from Paris to Marseille and with other artists fleeing Nazi incursion moved on to Martinique but found himself briefly imprisoned there.
He was released to return to Cuba in 1941 and this marked a significant change of artistic direction for him. The Tate Gallery entry neatly encapsulates the significance of that period of his life:
"After eighteen years away, Lam returned to Havana in 1941 as part of the exodus of refugees fleeing the German occupation. Upon his return after years in Europe, he was dismayed to still see racial inequality and political corruption in his home country. As such, Lam used art to explore Cuban culture and identity. 
Lam increasingly made reference to Cuba within his work, stating 'I wanted with all my heart to paint the drama of my country'. Rediscovering the natural landscape, he often depicted Cuba's vegetation and used an earthy colour palette as well as vibrant greens, reds and oranges of the Caribbean isles. Lam continued to develop this signature style, incorporating elements of Afro-Cuban imagery. 
At this time, Lam also became fascinated with the Santería religion, in which rituals and beliefs from West Africa are overlaid with aspects of Catholicism. During both Santería and Vodou rituals, the latter of which he encountered on an extended visit to Haiti, the worshipper is allegedly possessed or 'ridden' by a spirit. The influence of these ceremonies is evident within Lam's work, which commonly depict mask-like faces and hybrid figures including the 'horse-headed woman'. These figures can be interpreted as poetic references to the sex workers present in pre-Revolutionary Cuba, as Lam commented on his homeland's poverty and corruption.  
Impressed by the social ideals of the Cuban revolution, Lam returned to Cuba periodically. His final visits to Havana were for medical treatment following a stroke in 1978."
There are few things more thrilling than coming across an artist or writer that you don't know and having the time and chance to find your way into their work. This particular publication is a really handsome edition of his work and has a particularly strong focus on his art prior to his return to Cuba – the European years if you will. The essay that precedes the art plates contextualises his life but doesn't usurp the primacy of the artworks themselves and these remain the central focus. I thought it was also a very nice touch to have a number of pages dotted through the book which are dedicated to the black and white photographs that document Lam's life as he gradually becomes an artist of international status.
Clearly I picked this up for a snip but prices for the book on the second hand market are astonishingly modest (not much more than £10) and I can honestly say that this would be money very well spent.
Terry Potter
November 2019
(Click on any image below to view them in a slide show format)