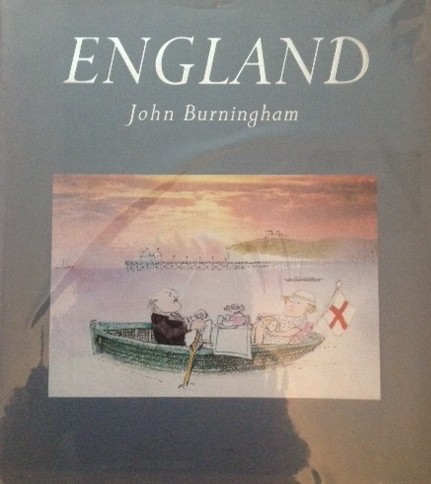 posted on 08 Oct 2019
England by John Burningham
John Burningham who died at the age of 82 in January 2019, was one of a golden generation of children's book illustrators whose style is both highly individual and almost immediately recognisable. The superb book that showcases his life, career and achievements was reviewed on the Letterpress site back in 2016 and his death was a sad loss. However, Burningham wasn't solely concerned with children's book illustration and he also produced playful, humorous books for adults that are packed full of his unmistakable drawings.
England, published in 1992, is a kind of idiosyncratic scrapbook of England and Englishness, that meanders through the traditional events that mark out the year - highlighting the oddities and general weirdness of English life. The contents will probably not come as a surprise – the Englishness on parade here is pretty stereotypical; the love of pomp and ceremony, preoccupation with the weather, royalty and rituals, cricket and a certain degree of oafishness.
What will strike a reader with a 21st century sensibility is that Burningham's England is a pretty resolutely middle class, white and overwhelmingly male world. This isn't so much a criticism that springs from the perspective of that dreaded phrase 'political correctness' but an acknowledgement of two things: firstly, that this is Burningham's own very personal perspective and probably accurately reflects the world he occupied and the England that shaped him. And, secondly, it's a reflection of just how much and how quickly England has changed in the space of a quarter of a century.
There's a very gentle kind of satire on show here but the overwhelming feeling is one of a sort of almost bewildered, benign affection for the peculiarities of his fellow countrymen/women. Burningham has structured the book around a selection of documents and writings that form a sort of backdrop or dressing for the drawings. So you'll find here that there are snippets of Shakespeare, cricket score cards, popular song, newspaper clippings and even court papers.
The book is large format and gives him lots of scope to be ambitious with the drawings and he often covers a double spread or bleeds his drawings off the edges of the page. It's the kind of book that is made for browsing and dipping into and you'll almost certainly find that you'll keep changing your mind about which of the illustrations is your favourite. I decided against describing in detail any specific drawings in favour of recommending all of them to you.
Just a word for the jacket because I think there's an interesting point to be made here. Off the top of my head I can't remember another book I've looked at recently that carries no information or blurb on the jacket anywhere. The jacket is a battleship grey with the title and author embossed in silver. A single illustration of two elderly, middle class people having a gentle afternoon tea whilst rowing in a boat floating just off a seaside pier with what might be the white cliffs of Dover in the distance. No other words. No blurb on the flyleaf. No endorsements or recommendations.
You might not find that this is your England and it may not even really be John Burningham's but you will recognise it as a mythological England that plenty of people subscribe to. For those people struggling to understand Brexit this might be an important book if you're trying to get a handle on the kind of England some people want to 'return' to.
Terry Potter
October 2019
(Click on any image to view them in a slide show format)