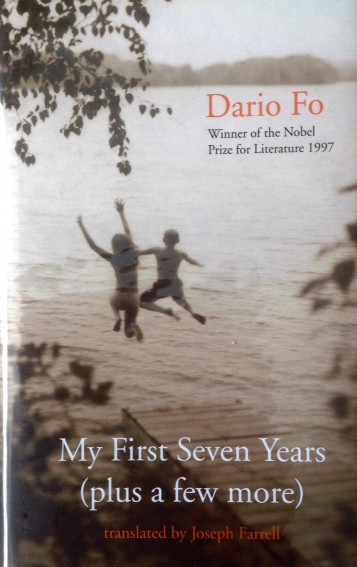 posted on 09 Jul 2018
My First Seven Years (plus a few more) by Dario Fo
The work of Dario Fo (1926 – 2016), Italian playwright, musician, left-wing political activist, artist and stage designer, is probably less well known than it ought to be – especially given his extraordinary range of activities. He was awarded the Nobel Prize for Literature in 1997 to acknowledge his impressive body of work but I suspect that those who have heard of him will associate his name with his fabulous play, The Accidental Death of an Anarchist that was first produced in the UK in the early 1980s.
My First Seven Years (plus a few more) is Fo's memoir of his 'early years' but the title is typically and characteristically unreliable. The 'few more' years he tags on to his first seven take us right through the Second World War and into Fo's life as a student artist/actor/musician. It's also a memoir of quite different moods – try and imagine something that is a hybrid of Cinema Paradiso, Cider With Rosie and Goodbye To All That and you might get somewhere near the experience of reading the book.
Fo's early years are spent moving with his family from town to town around the perimeter of Lake Maggiorre as his station-master father gets transferred from posting to posting on the Swiss-Italian border. These are the years of the rising Fascist government in Italy prior to the outbreak of World War Two and Fo's discovery of the world around him is coloured by the trail of political refugees who are seeking to smuggle themselves out of the country and to safety in Switzerland.
Fo also has family across the Swiss border and as a child he is told that his grandfather's town has houses with roofs made entirely of chocolate tiles – the discovery that they aren't is his first crushing encounter with the disappointments of reality over fantasy. But there we do meet his marvellous Granddad Bristin who is big, generous, full of life and teaches Dario the pleasures of storytelling. His time with his granddad is beautifully and lovingly recreated and you can almost feel the languorous days unfolding as Fo recalls these times.
As the boy grows he discovers a skill for drawing and painting, he swims expertly and falls for a beautifully designed rowing skiff that he spends all his money on and takes out onto the lake – sharing the experience with his friends. Fo unfolds his tales of  the community he lives in with affection and skill and I very much liked the light-touch sensitivity of the way he describes his first love at the age of 17.  The relationship with the 14 year-old dark-haired beauty he saves from drowning is delicately handled and his newly discovered emotions are told with an amused verve and passion.
But the life of a young man in 1944 could not continue uninterrupted by the war. Although the conflict is entering its final stages, Italian youth is still being rounded up to serve the Axis cause – with all sorts of rumours about them being shipped off to Germany. Fo volunteers to join an anti-aircraft unit to avoid being shipped out but only finds himself being trailed across Italy on a range of missions – including being part of a team that digs people out of bombed buildings and there is a very fine story of how he saves a cellar full of semi-clothed prostitutes and naked German soldiers from a bombed bordello.
In the end he is forced to desert twice – once using forged papers he creates himself using his artistic skills – and is saved from further problems by the ending of the war. But the lessons of war and Fascism had bitten deeply into his mind and sets his future political leanings to the Left:
"There are periods in the life of a man which slip away leaving no trace in his mind, others which, however brief they may be, leave deep marks on the memory, causing each moment to be imprinted as though sculpted on stone….When I think back to that time between 1944 and 1945, it seems impossible that I live through so many stories, all piled one on top of the other…Even today in sleep, I find myself carried painfully back to the bedlam of the bombing raids."
This is a relatively short book – just 250 pages – but it's jammed with detail, humour and a febrile atmosphere that pulls the reader in and makes the memoir an enthralling read.
The book can be easily picked up in hardcover or paperback for a modest price and it will make an ideal book to take on holiday – especially if you're heading off to the Italian lakes.
Terry Potter
July 2018