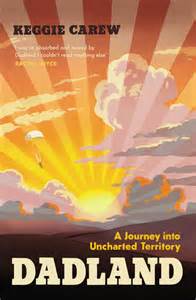 posted on 07 Feb 2017
Dadland by Keggie Carew
This is the special and very ambitious biography of Tom Carew, who was described by The Times of India as 'Lawrence of Burma' and 'The Mad Irishman'. It deserves its many accolades, including the 2017 Costa Biography Award. The author, his daughter, explains that she had wanted to go deeper into her dad's past life at the same time as he was starting to disappear into the land of dementia, 'a journey into uncharted territory'. In this way she hoped to understand him better and to make sense of his and her present alongside his and her past lives.
Keggie Carew is an artist by profession and her aesthetic sensibility shines through her writing. There are some stunning atmospheric passages of landscape description, for example when she imagines his life working in Burma:
'Trees that ascend to sixty, seventy, a hundred feet before they start branching. A canopy that scatters the searing sun into shadows and flickering shafts. Once strange, now familiar to him: the evening churrings of a nightjar; the sudden eruption of monkeys screeching; the creaking of bamboos rubbing against each other in the wind.'
She is just as articulate on the domestic front when she explains that her stepmother, a woman with whom she latterly discovers her father was having an affair some years before he divorced her own mother, was unpleasant and cold. She lists evidence of her lack of taste in a staccato fragment of writing about her approach to buying presents that beautifully conveys her visceral dislike of the woman:
'Grab bag. Slam door.March up street.Go into first suitable shop. Decide immediately on first thing in price range, anything between £5 and well, £5.'
The structure of the book is as complicated as the lives it describes as she goes backwards and forewards between Tom's increasingly bizarre behaviour and memorable episodes from his and her past, taking us with her as she digs away and extricates nuggets of information through dogged research. It must be very difficult to write a biography of a close family member as for her and her three siblings, he was just a rather wonderful and eccentric dad whom they remember with a mixture of great affection and exasperation. But he belonged to a lot of other people as well and, unbeknown to them, was a significant public figure due to his extraordinary war record in France and subsequent military career in Burma. Tom Carew had developed a public reputation as one of those remarkably energetic and charismatic men who fought and survived the war in France. However, it isn't until she begins her painstaking research that his daughter realises just how dangerous and very important his war work had been. In fact she had been rather bored with his stories and been dismissive of his annual reunions with his old chums in the Jedburgh unit of the Special Operations Executive. His later adventures in Burma are equally astounding ' If France was his pupation, Burma is his imago...' 
As well as sharing some fascinating secrets about his career in the army she also reflects on how his three marriages shaped her father at different points in his life. She has many happy nostalgic memories of family life, particularly one of a Spanish holiday which she describes in glorious detail. But there were always dark shadows in her childhood because her mother Jane, his second wife, became seriously mentally ill during the 1960s. The family had returned from living abroad in Gibraltar where Tom had been training cadets for four years and the couple had lived a sunny party filled life to begin a rather dull suburban episode living in Fareham, Hampshire. The ever inventive and energetic Tom was full of ideas for making a living and eventually settled on buying a boatbuilding business. Unfortunately this was unsuccessful and so there was little spare money for several years and increasing tension at home. This meant that family life was far from ideal, often with their dad working away and the four children and their paternal grandfather who lived with them had to manage the dynamo of Jane's anger until after several years of violent unravelling, she was finally admitted for a period to the local asylum. The author shares her painful memories of visiting her there for the first time as being very frightening but also a huge relief.
This is such an extraordinary biography which works because it is so packed with world and family history alongside plenty of poignant and at times very funny anecdotes. Having recently experienced my own father's frightening transition into dementia I know first- hand how a sense of humour about the whole ghastly business can really help.  Tom emerges as a fiercely independent, self- centred and demanding man right up until his death whose personal battle with his illness baffled and frustrated him. There are plenty of interesting photographs scattered throughout the book that include some of the many handwritten reminder notes he wrote to himself and left all over his house which I found very moving. He always wanted to be useful because he was a practical man and so he had to be kept occupied with increasingly menial tasks. There were so many little familiar episodes peppered throughout the book that brought a lump to my throat. One describes how she observed him looking rather lost in the garden centre:
I notice that he is not looking at the shelves any more. He is looking intently at the people. Every person that walks past him he looks up and down. Then he looks at me. I wave. His face breaks into a smile. He speeds over.
'I'm glad you waved,' he confesses. 'there were quite a lot of people who could have been you.'   
I am not usually a fan of biographies and must confess that I did skip some of the long detailed descriptions about war manoeuvres because there were understandably quite a lot of these in the early part of the book. Apart from that I really enjoyed reading this tender and beautifully written memorial to a man who led an extraordinarily colourful life and continued to play an important central role in his family up to his death in 2009. 
Karen Argent
February 2017