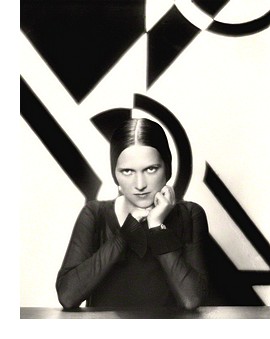 posted on 03 Aug 2016
Ethel Mannin : novelist, travel writer and Socialist
Recently I've been thinking about all the books and authors that I ignored when I was younger and when I knew far less about the background to their work and their worlds. I thought it would be interesting to try and highlight some of those writers I wish I'd taken more notice of.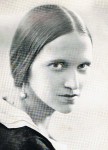 In my early years of book buying in second hand shops I seemed often to come across acres of books by one time popular writers who were no longer the blockbusters they once were. A good number of these writers were women ( or sometimes even men writing under female pseudonyms) and prolific producers of melodramatic, sentimental romantic fiction and they were usually published  in horrible cheap editions by book clubs of one kind or another. Because I knew no better at the time, I assumed that Ethel Mannin was a writer who fell into this category and I was happy to pass over her books without much thought.
How wrong I was. Mannin was in fact a novelist, travel writer and committed radical who was a novelist, philosopher and activist who also chronicled her life in a series of seven autobiographies which revealed her extraordinary experiences and the development of her ideas.
Born in 1900 into a family that already embraced Socialism, her father was a postal service worker, Ethel went to an independent boarding school of which she later said::
"The school called itself a preparatory school, but for what it could possibly prepare anyone it would be impossible to say."
She did, however, find herself becoming infatuated by one of her female teachers who was a member of the Fabian Society and the Independent Labour Party and this proved to be a long term influence on her political views. When she left education she went on to have her first work experiences in copy-writing and journalism and by this time she was already producing short stories and magazine articles:
"At sixteen I was writing advertisements, running two house-organs - business magazines - and when I was seventeen was publishing my own stories, articles, verses, in a monthly magazine which Higham bought and left to me to produce."
It was while she was working at the copy-writers that she had her first romantic relationship with a man who introduced her to the work of Thomas Paine, Upton Sinclair, William Morris and John Stuart Mill. The relationship was largely platonic and ended when he returned to New Zealand to avoid being called-up into the British army for the First World War but the relationship left its mark on her and especially on the development of her political ideas.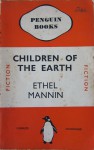 By 1918, Mannin was in a serious relationship with Alexander Porteus who she married and with whom she had her only child. She continued to do freelance journalism and copy-writing until 1923 when she decided it was time to publish her first novel,  Martha. By 1929 she had published another three novels and while the critical reaction was positive her private life was falling apart and she separated from Porteus, moving with her daughter to live in a small house in Wimbledon.
Mannin became an advocate of progressive education and of A.S.Neil's  Summerhill school and she sent her daughter there – backing up this decision with books about educational theory and novels that expounded the value of progressive schooling methods like those used by Neil. She was a strong advocate of putting the child in charge of their own learning and she rejected the use of compulsion to enforce discipline or to push children into any  curriculum they themselves didn't opt into. It was around this time that she also began a less than satisfying dalliance  with W.B.Yeats – who was himself on the rebound from a failed relationship.
She began to travel widely and in 1936 she went to the Soviet Union which made her wary of the sort of bureaucratic Communism she encountered there. She wrote about her experiences in the book South of Samarkand which detailed the nature of her disillusionment.  Her loss of faith in this version of Communism didn't however represent a break with radical socialism and she became more and more interested in Anarchism through a friendship with Emma Goldman – her novel Red Rose was effectively based on this relationship.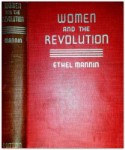 Mannin married again in 1938 to Reginald Reynolds, who was also a member of the Independent Labour Party, and they travelled widely in Europe, North Africa and the Middle East. These adventures are documented in her autobiographies and this period of her life also gave her time to develop further her philosophical ideas that formed the basis of some of her later work.
Mannin remained a committed social reformer until she died as the result of a fall at home in 1984. In all she wrote over one hundred books in her lifetime but her reputation amongst the wider reading public was at its peak during the Thirties and Forties and has steadily fallen away since then. However she has had something of a revival of her fortunes due to the advocacy of students of the women's movement and those interested in radical and working class literature. Virginia Nicholson, the author of Among the Bohemians (2002) tells us:
 "Ethel Mannin didn't resent the passing of youth, but she felt displaced in the post-War world of the 1950s... In old age her pleasures were correspondingly elderly - good wine, good books, and her roses. Her robust impatience with humbug remained vigorous however. She continued to travel, espoused Buddhism, and signed up to a variety of liberal causes. Passion, she felt, was for the young, but 'the unending struggle against injustice and barbarism in the world' was perennial."
So if you are out browsing the bookshelves of your favourite second hand shops and you spot anything by Ethel Mannin don't make the same mistake I did – grab her books while you can and explore the world of one of literature's great radicals.
Terry Potter
August 2016