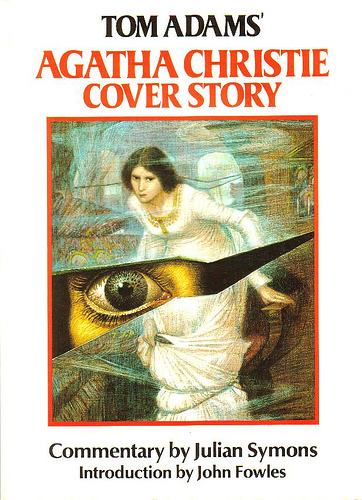 posted on 01 Aug 2016
Tom Adams' Agatha Christie Cover Story with commentary by Julian Symons
Although you may not have heard the name Tom Adams before, if you are a fan of crime fiction I'd be willing to bet that you're very familiar with his work. He is probably most famous for his illustrations that provide the cover art for the Agatha Christie's paperback novels published by Fontana from the mid-1960s. Some readers might also be aware of his work for Collins on John Fowles' The Collector, The Magus and The French Lieutenant's Woman or on novels of David Storey and Patrick White.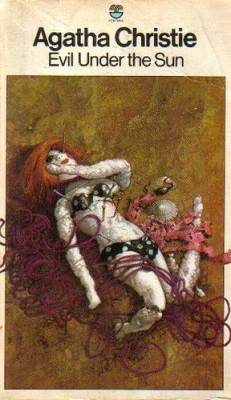 Although Adams was born in the US in 1926 he has an Anglo-Scottish heritage – his father was a town planner for Kent -  and despite having an eye for design he spent time in the Royal Navy from 1944 to1946. When he left he studied at the Chelsea School of Art and Goldsmith College and went on to provide artwork for some of the UK's favourite comics.
In the Sixties and Seventies he was part of a creative circle of artists and poets and he had his own gallery in which he published posters, music album artwork and books of poetry. When he met Virgil Pomfrey at around this time he decided to join his  agency  and this proved to be a key relationship which led directly to his commissions for the first John Fowles book jackets.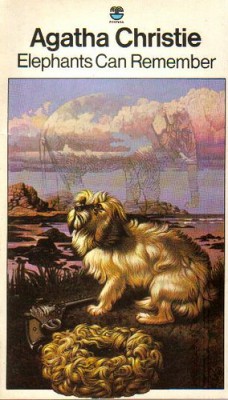 Although Agatha Christie titles had been published in paperback before, Adams was invited to submit a version of A Murder Is Announced for a new Fontana imprint in 1962. This turned out to be something of a triumph and triggered a long term relationship that saw him produce paintings for all of Christie's novels. The book featured here and published by Dragons World Limited in 1981brings together all of these paintings for the covers with commentary on the majority of them by Julian Symonds and a short afterword on each by the artist himself. There is also a short essay of appreciation by John Fowles and a foreword by Adams in which he talks about the difficulties of collecting together the images and getting the rights to reprint them now that many of the paintings are in private collections.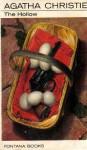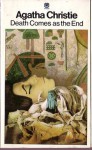 Fowles makes the point in his essay that Adams' style has not always been welcomed by all commentators and that some of his cover art has been particularly criticised as not being in the spirit of the Christie oeuvre. I think this is understandable because although Adams' work is immediately recognisable it is not necessarily consistent in terms of technique. He moves from melodramatic to surreal, from figurative to abstract collage and from wide canvas to close-up detail. In doing that it is inevitable that there will be hits and misses.
Adams has also had an influence of wider popular culture. His illustration for Death in the Clouds  which featured a giant wasp was picked up as the inspiration for a Doctor Who episode, The Unicorn and the Wasp, which was broadcast in 2008 and which featured a copy of the book as part of the set dressing.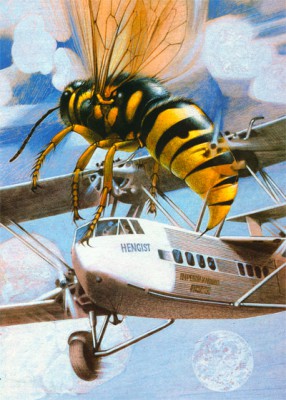 This book has been put together with care and consideration for its subject matter and I was pleased to pick up an ex-library copy that has, unusually, been quite well treated – it's got a couple of the usual library stamps but nothing too intrusive. Normally I would provide photographs of the inside of the book, showing the illustrations and layout but in this case the publishing details forbids reproduction of its contents by any medium without express permission from the publisher. I have tried to find where and how I can get hold of  Dragons World Ltd but I can't locate them (do they still exist?), However, I thought it was important to respect their strictures and so I have used examples of the actual paperbacks as they were produced instead.
Expect to pay around £15 for a copy of this on the second hand market.
Terry Potter
August 2016