News
Young Muslim writers awards: celebrating a more diverse creative voice
posted on 05 Dec 2015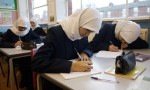 Fourteen-year-old Shebana Khan, from Walthamstow, north London, writes poetry in her spare time as a way to express herself. She might be softly spoken, but she certainly doesn't hold back. When she recites her poetry, she speaks quickly and rhythmically, punching the air to accentuate her words.
She is a pupil at the Lammas school and sixth form in Waltham Forest, one of London's most deprived boroughs, and has performed her poetry at the Houses of Parliament. Earlier this year she entered one of her poems, The Circus of Lies, into the Young Muslim Writers awards.
Read the full article in The Guardian here.
(Photograph: Don McPhee for the Guardian)