News
Following doctor's orders: Take a few books and read regularly
posted on 03 Dec 2015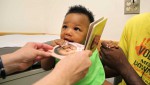 Pediatricians prescribe many things, but a prescription for books may surprise parents.
Research shows many parents don't read enough to their children, and literacy gaps can emerge in kids as young as 18 months.
In response, doctor's orders are to read bedtime stories, sing and talk to keep infants and toddlers from falling behind.
Read more about this story on the Newsworks website here.
(Photo: Rahmir Riggins gets a book as part of his six-month checkup at Karabots Pediatric Care Center in West Philadelphia. (Emma Lee/WHYY)