News
Cuts-hit Birmingham libraries ask public to donate books
posted on 12 Aug 2015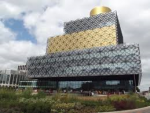 Birmingham's beleaguered libraries have been reduced to asking the public for book donations following public saving cuts, according to a leaflet obtained by the BBC.
BBC West Midlands posted a picture of the flyer, which cites Birmingham Libraries but bears no city council branding, online on Wednesday, prompting anger from locals. "Books required!" it reads. "Due to public saving cuts we are no longer purchasing any new books or newspapers. Therefore we are looking for any books that have been published in the last 12 months to be donated to the library. All gratefully received."
This story was reported by The Guardian and can be read in full here.