News
Charlie and the Chocolate Factory tops primary school book list
posted on 03 Aug 2015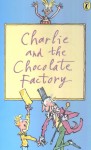 Charlie and the Chocolate Factory is at the top of a teachers' list of books "all children should read before leaving primary school".
The list of must-read novels has been selected by 500 teachers for the National Association for the Teaching of English and the TES magazine.
Roald Dahl's cautionary tale comes ahead of Goodnight Mister Tom.
"Fiction teaches children how to navigate the journey of life," says TES editor Ann Mroz.
Read more about this story on the BBC.