News
David Mitchell Just Wants the Earth to Last (and Liverpool to Win the League).
posted on 12 Jan 2019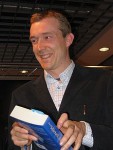 David Mitchell is the author of seven novels, including bestsellers Cloud Atlas, The Thousand Autumns of Jacob de Zoet and The Bone Clocks, and was born on January 12, 1969. To mark his 50th birthday, Rose Harris-Birtill sent him ten interview questions on his birthday wishes, his fictional alter-ego, and his next book.