News
Why Do Fantasy Novels Have So Much Food?
posted on 17 Apr 2018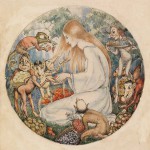 AS A PRE-TEEN, I DEVOURED fantasy book after fantasy book. One day, I was stopped short by a food description. In Diana Wynne Jones's A Tale of Time City, the era-hopping protagonists eat a treat called butter-pie. It's yellow ice cream on a stick, ice-cold on the outside and molten on the inside, and described as "buttery and creamy … with just a hint of toffee, and twenty other even better tastes." Butter-pie has never existed, except in the pages of Jones's book and in the imaginations of readers. But it sounded delicious.